Welcome to Abendago Reboot!
In our last newsletter, we introduced you to Abendago Reboot and now we're ready to go! As a company begins to rapidly grow like Abendago has, it can become more and more difficult to maintain a small boutique firm style of communication. So we're rolling out a slew of exciting changes in how we work and communicate with you!
You will see more of our exciting new strategy in action over the next few weeks and months, including:
A quarterly newsletter
Email on a bi-monthly or monthly basis depending on where your project/website is in the development process (Starting, Being worked on or completed)
Access to tools to keep you engaged in the process
Access to exclusive client perks and add-ons
We're doing exciting things at Abendago Media Group and making sure that we communicate that to you is at the top of our priorities. That's why you will be hearing more from us.
5 Exciting Announcements
As valued clients, we appreciate your choosing Abendago Media Group as your web design and development service. Because we appreciate you, we are really excited about some of the product developments we have in the works. While we don't want to show our hand or tip our hats yet(!), we can tell you that these products will be offered with exclusive pricing (and in some cases, completely free as part of your Abendago subscription!) to our clients. We see this opportunity as a way to thank you and help you to continue showcasing your brand and products efficiently and effectively.
Check out each of our newsletters to be the first to find out about our exciting announcements!
ANNOUNCEMENT #1 - WAHOO!
We've actually packed two items into one for our first announcement.
Newsletters
As mentioned previously, each of our clients past and present will be getting an exclusive newsletter with profiles, tips and tricks and other useful information. These newsletters will come on a quarterly basis and are part of our communication strategy. We just want the opportunity to let you know that we are still active and working hard to make our services top notch for our clients.
Cloudship
We have begun the process of setting up each of our current clients with Cloudship accounts. Cloudship is a great tool we have begun to use that allows us to create collaborative lists of tasks that clients can view and edit. With Cloudship, we can add and prioritize each of the tasks of a project we are working on. As a client, you can access that list, view the tasks we are working on and the estimated dates of deliverables. You can also add further tasks (After discussing them with us so we're not taken by surprise!) and change the priority of the tasks. There is also an area to add notes on each of the tasks for further details and clarifications. We're very excited about this opportunity to better engage our clients in the process. For past clients, you still have the opportunity to use this tool if further work or updates are done on your site. We will simply add you as a new account and send you the details.

Featured Company: Teslaccessories
Abendago works with some awesome companies! That's why each quarterly newsletter will highlight one of the companies we work with so you can get to know us better!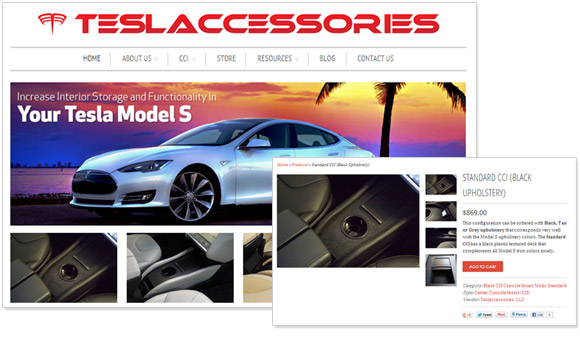 We are huge fans of Tesla and their innovative electric vehicles. That's why we were so pumped when Teslaccessories contacted us about providing the web and social media presence for their innovative product; the Tesla Model S Center Console Insert .
Teslaccessories provided Abendago with the challenge of building a visually stunning site focusing on their premier product, the Center Console Insert, all within the Shopify framework. Over the period of a couple of weeks, Abendago worked on transferring and updating the content of their existing site to the Shopify platform. At the same time, Abendago began the process of building their social media presence on multiple fronts, establishing the Teslaccessories brand, and driving traffic to their site.
"We started working with Abendago before we had even launched our business.  From inception, their hard-working team has been instrumental in making our business, Teslaccessories.com, an immediate success.  Their hands-on approach has proven invaluable from strategy to execution of our overall business.  From e-commerce solutions, website design, and SEO to digital marketing, social media, and content generation, the team at Abendago has been a key partner and we plan to grow our business with them as we enjoy continued success."
Mathew Pressman
Managing Director
Teslaccessories, LLC
We're very excited to be partnered with Teslaccessories and we look forward to see what new products they develop!
See this Featured Company on our Portfolio

SEO Tips and Tricks
In each of our quarterly newsletters, we will devote some space to giving you some practical tips and tricks to improve the SEO of your wesbite. Whether you use Abendago to build, optimize and execute your SEO strategy or are doing it yourself, having some background in SEO and how it works can be very useful.
Let's start with what SEO is?
SEO stands for Search Engine Optimization. And the phrase, "improve your SEO strategy" encompasses the actions taken to ensure your website can be found in a search engine's results page (SERP) when searching for words or phrases relevant to the content on your website.
What does Social SEO mean?
Social SEO refers to the idea that social media links and interaction play a considerable part in a website's search rankings. It sounds complicated (and, in reality it is) but basically SEO is all about optimizing content—whether it's on your website or on a social media platform—in order to appear higher in search rankings.
To start off with, we'll offer you some Social SEO tips you can easily start implementing today!
Tip #1: Optimize your social media profiles

The key to an SEO friendly social media profile is to be descriptive as possible.  Always fill out the 'About' or 'Information' sections of any social media platform. Use words or phrases that describe your business and are also terms individuals would use to search for your business.

For example, to optimize your Facebook Page for local searches, it is very important to include your address, city, state, and zip. Always include links from your social channels back to your business's website (and links from your website to your social channels).

Insider Tip: The "Category" field is often over looked on Facebook Pages but is important for Facebook mobile searches. Check to make sure your business is listed as the correct category while editing your basic information.

Tip #2: Optimize your social media content/updates

To optimize your social content, always include some of the relevant search keywords you determined for your business in your Facebook updates, tweets, pin descriptions, etc. It's important to remember to share content from your website or blog socially to give it an SEO boost too. Sharing new content on Twitter is especially important because it helps Google index it faster (indexing means Google adds this URL to their database).

Insider Tip: Use your business's name in your social posts. This helps Google associate the keywords you use to describe your business with your business's name.
We're looking forward to telling you more about the exciting things we have planned! As always, if you have any thoughts, concerns or just want to send us a friendly hello, please feel free to contact us. You can find all our contact information at http://abendago.com !